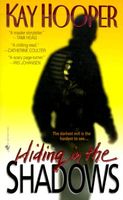 Title:
Hiding in the Shadows
Author:
Kay Hooper
Series:
Dark Crescent Sisterhood (book #1)
Previous in series:
Stealing Shadows


Next in series:

Out of the Shadows

My rating:
3.5 Stars



Synopsis:

After awakening from a coma with no memory of the accident or her life preceding it, Faith Parker starts piecing her life back together and discovers that her only friend has disappeared without a trace. Soon, Faith is shocked by intimate dreams of an unknown man and tortured by visions of violence. Can she learn the truth about herself and her friend before her dreams come true?



Review:

This review is going to be shorter than some of my others as I don't want to give away any of the surprises. Suffice it to say that this is a good story with characters that are easy to identify with and a clever plot with an extra twist at the end.
The heroine, Faith, copes with the revelations concerning her life with strength and dignity. She never allows the pain and hardship to overwhelm her and I was really rooting for her happy ending.
The book is well-written with a skillful buildup of tension and suspense that ratchets up a notch toward the end. The romance angle, however, is too subdued and could have been better balanced with the suspense.